Jonathan and I celebrated our 4 year anniversary on Tuesday. We started the day watching the Inauguration which was exciting. We were pleased to share our big day with President Obama :) We didn't plan for much but every year we make reservations at The Melting Pot for dinner. It never dissapoints. We're happy to continue our tradition in Wisconsin since we found out they have a Melting Pot in Madison.

I thought it would be neat to share some photos and stories about our wedding. Not a lot of people know this but Jonathan and I were engaged after 3 weeks of dating. Not kidding. We were engaged on September 20th, 2004 and were married exactly 4 months later. I had a lot on my plate with going to school full time and working part time. I can't believe my wedding turned out so beautiful when I only had 4 months to plan.

Other than buying my dress and finally telling my parents I was engaged, booking my photographer was the first thing I did. We actually shot my bridals first before shooting our engagement pictures. The fall leaves were stunning and I wanted to get the beautiful colors in my pictures. Jonathan came along for the fun and help since I didn't have my mom to help me with my dress and stuff. We took my bridals up in American Fork Canyon.

All pictures by Barksdale Photography unless otherwise noted.

As you can see I had brown hair back then.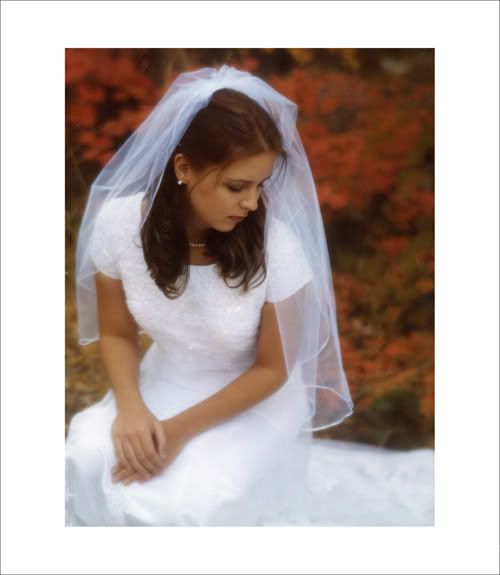 My photographer was a little crazy(but I love that!). He wanted me to be in the middle of this river on a rock with my dress. It took the help of Chris (my photographer) and Jonathan to get me to this rock without falling in the water. Of course, I obeyed because I'm up for anything. Chris was up to his knees in the cold mountain water with his tripod. I felt so bad but whenever I feel like I need to do something for a great shot, I do it. You can see in this picture below that I'm barefoot because there was no way I'd be able to hop around those rocks with heels on!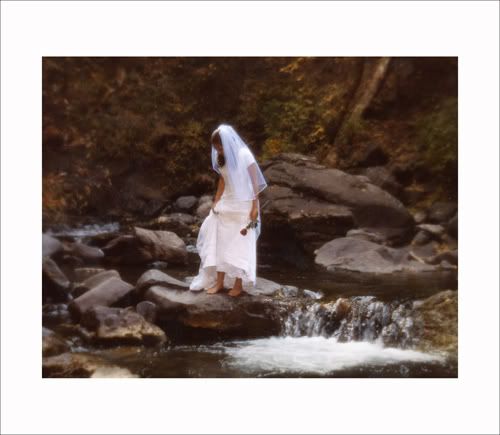 This picture is the one I chose to print and frame nice. The lighting is so fabulous. My photographer was excellent in knowing my good angles. This picture gave me a jawline and made my nose look smaller. Wonderful! :) Also, it looks like the location is somewhere far away from roads or buildings but just to the left was a parking lot and a building that had bathrooms. People driving by were honking at me and it was hard to keep a straight face sometimes.



One of our engagement pictures. I think we took these near Bridal Veil falls in Provo or something. Again, the whole sitting on rocks in the middle of rivers :) This is the picture we chose for our newspaper announcement even though Jonathan had his ugly sweatshirt on(he had a nicer shirt on underneath but he was cold).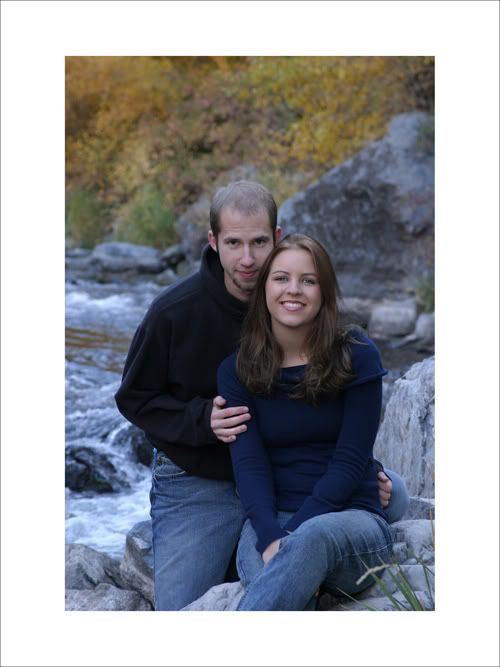 Our wedding day! Not very busy at the temple. Very cold with fog. Our ceremony was lovely and even though I have no pictures to remember it by it is still very vivid in my memory. I remember being so happy that when I found out my photographer was going to be 45 minutes late, I didn't care all that much. I'm sure he was thinking I would be all bridezilla on him when he finally did arrive at the temple :) By the time Chris did get to take our pictures there was no one around the temple and we had it all to ourselves. I was hating myself for not buying a cape since it was freezing outside during pictures but I'm glad I didn't because I loved my dress so much I didn't want to cover it up.



We have a gallery wrap of this picture hanging in our apartment. I love it. It kinda looks like I'm saying "he's mine" with a little smirk on my face :)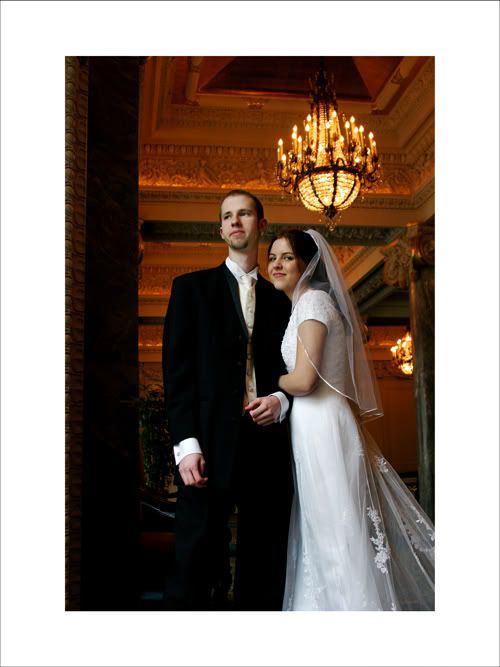 If there is one thing I wouldn't change about my wedding(except the person I married of course), it would be my cake. It was the most beautiful cake I'd ever seen. I loved that it was all white and didn't have a cheesy cake topper. It was simple and elegant. I love the flowers and bows made out of frosting.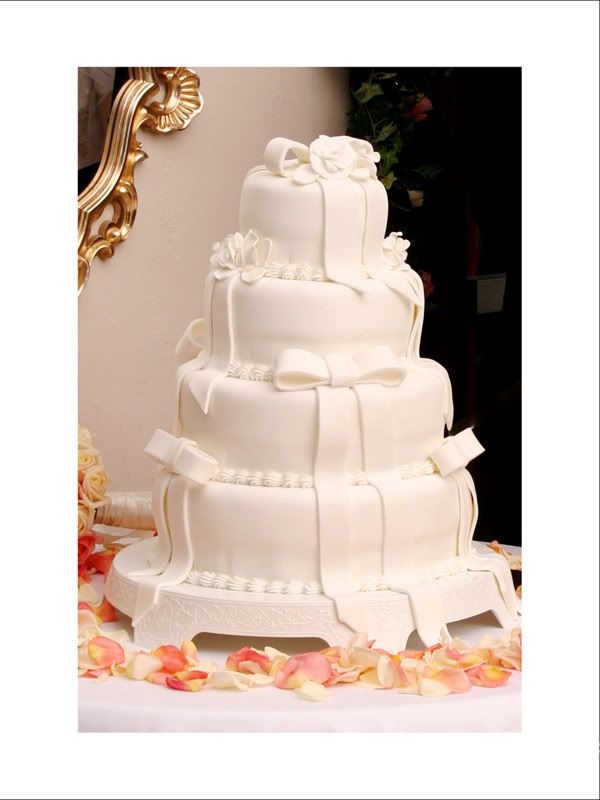 By far my favorite wedding picture of Jonathan and I. Chris wanted to sneak us outside of the reception for some pictures. I think we were all "pictured out" by that time because we weren't doing anything lovey dovey until Chris said "whisper something funny in her ear". As you can tell it was pretty funny.



And here is a very dark and fuzzy picture taken at Melting Pot on Tuesday. Jonathan thought his camera phone would work just fine even though I insisted on bringing my camera. The thought of lugging around my fat camera all night didn't seem fun so I didn't bring it. Being the photographer I am, I thought of holding the candle up to our faces to make it seem not so dark. Jonathan is making a face perfect for this kind of picture too.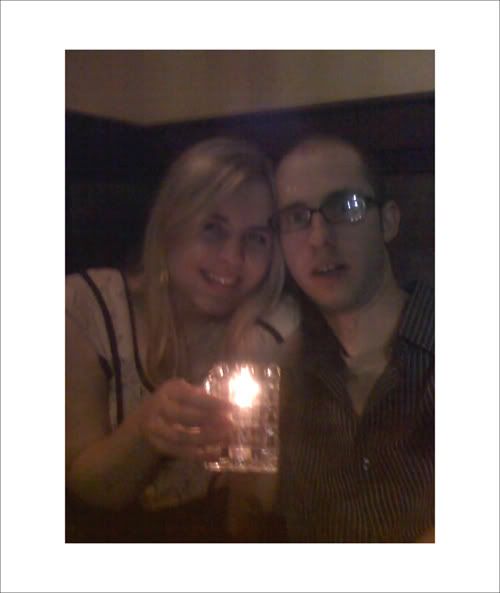 **Unrelated to this post**

I am "facebooking" it right now and have a facebook account. After using myspace for awhile I decided to try it and love it more than myspace. If you have a facebook account and want to be my friend, here is where you can add me. I just became a fan of Aretha Franklin's Inauguration Hat on facebook. If you want to become a fan click here. I also plan to attend National Talk Like Christian Bale As Batman Day. Fun stuff!
My current facebook profile picture taken on Tuesday all glammed up(or at least trying to be glammed up).